WHAT'S NEW?
| | |
| --- | --- |
| Ciao Italia Quick Recipes | |
Written by Mary Ann Esposito

TASTE OF THE SEACOAST
Nationally known Italian chef Mary Ann Esposito offers three 30-minute recipes from her latest cookbook Ciao Italia Prono!. Included here are complete details for oven roasted cauliflower, pears with apricots in wine and grilled pork tenderloin. Enjoy.
Ciao Italia Pronto!:
30-Minute Recipes from an Italian Kitchen
ALSO READ: Taste Interviews Mary Ann Esposito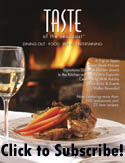 The following recipes are from Mary Ann Esposito's wonderful new book, Ciao Italia Pronto! 30-Minute Recipes from an Italian Kitchen. Learn how to prepare quick, easy – and authentic – Italian recipes in thirty minutes or less with Mary Ann's newest companion cookbook, Ciao Italia Pronto. Tasty frittatas, creative pastas, savory salads, succulent, simple desserts – they're all here waiting for you. These recipes and the interview with Mary Ann come appear here courtesy of Taste of the Seacoast magaine.
Broccolo Al Forno
(Oven Roasted Cauliflower)

1 medium head cauliflower
1/3 cup extra virgin olive oil
2 teaspoons celery salt
1 teaspoon salt
Grinding coarse black pepper
2 teaspoons minced thyme


1. Turn the cauliflower upside down on a cutting board and cut around the center core. Discard the core and separate the cauliflower into 1-inch flowerets. Wash and dry them and set aside.

2. In a large bowl combine the olive oil, celery salt, salt, pepper, and thyme.

3. Add the flowerets and toss them well. Spread them on a baking sheet and bake them for 20-25 minutes, turning them once or twice, until they begin to brown and a fork easily pierces the stems. Serve as a side dish to meat, pork or fish.

Saving time: No time to clean and separate the cauliflower into florets? Buy them already separated and cleaned in packages in the produce department of your grocery store.

Serves 6-8

Maiale Alla Griglia Con Salsa Di Marmellata
(Grilled Pork Tenderloin with Orange Marmalade Sauce)

2 whole pork tenderloins, (about 1 1/4 pounds each)
One 8-ounce jar orange marmalade
1/4 cup commercial balsamic vinegar


1. Preheat an outdoor grill to 450F.

2. Wash and dry the tenderloins well with paper towels. Rub them with fine sea salt and coarse black pepper and set aside.

3. Make the sauce in a small saucepan. Heat the marmalade with the balsamic vinegar and still until the sauce is smooth. Remove 1/3 cup of the sauce to use for basting the tenderloins. Cook the remaining sauce over low heat for 3 to 4 minutes. Keep the sauce warm and covered.

4. Place the tenderloins on the grill. Baste them quickly with the sauce and cook them for 7 minutes over indirect heat with the grill top closed. Lower the heat to 375F, turn the tenderloins over and baste them again. Close the grill and cook an additional 5 minutes. Turn off the grill and allow the meat to sit for another 5 minutes. Following this method will result in juicy and not overcooked meat.

5. Transfer the tenderloins to a cutting board. Cover them loosely with aluminum foil and allow them to stand 5 minutes. Cut the pork on the diagonal into 1-inch slices; arrange them on a platter and serve passing the remaining sauce on the side.

Variation: add a tablespoon of fresh chopped rosemary to the finished sauce.

Serves 8

Editor's note: If you aren't year-round griller, use a ridged grill pan or prepare this under the broiler. But it's best on the grill.

Pere Cotte Con Albiccochi E Vino
Pears with Apricots and Wine

8 dried California apricots, diced
2 teaspoons orange marmalade
2 Anjou, Bartlett, or Packham Pears, cut in half lengthwise and core removed
1 tablespoon unsalted butter, cut into 4 pieces
1 cup white dessert wine, such as Moscato
4 tablespoons ricotta cheese
1 tablespoon sugar
1/4 cup coarsely chopped walnuts
Mint leaves for garnish


1. Place the apricots in a small saucepan and pour in just enough water to cover them. Bring the water to a boil, lower the heat and cook for 2 minutes. Drain the apricots and transfer them to a small bowl. Stir in the marmalade.

2. Place the pear halves on each of four individual microwave-safe bowls. Fill the cavities of each pear half with some of the apricot mixture. Dot the tops of each with a piece of butter.

3. Carefully pour 1/4 cup of the wine along the sides of each bowl. Cover each bowl with a sheet of wax paper.

4. Microwave the pears on high power for 5 to 6 minutes or just until the pears are soft but not mushy. Allow the pears to cool to room temperature.

5. In a small bowl beat the ricotta cheese with the sugar. Place a tablespoon of cheese on top of each pear half. Divide and sprinkle the nuts on top. Add a mint leaf for garnish and serve.

Note: If using a conventional oven, preheat the oven to 350F, use oven-safe serving dishes or a pan large enough to hold all four halves. Bake for 20 to 25 minutes, just until easily pierced with a fork. Arrange on serving dishes as above.

Serves 4
Please visit these SeacoastNH.com ad partners.