WHAT'S NEW?
| | |
| --- | --- |
| Best Kept Restaurant Secrets | |
Written by Crystal Ward Kent
Page 3 of 4
DUCKFAT
Portland, ME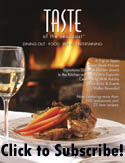 Heading north to Portland, Maine, be sure to stop at Duckfat, a great little bistro/sandwich shop located at 43 Middle Street. The restaurant is tiny, so while seating is available, it is also limited. No worries, though, everything is available for takeout.
According to restaurant manager Matthew Smith, Duckfat's unusual name came about because duck fat is used in some of their signature dishes.
"Rob Evans, our executive chef and owner, started frying French fried potatoes in duck fat and they became very popular," he explains. "Rob also uses duck fat at his other Portland restaurant, Hugo's, so he decided go with that name for this place. We use about 35 percent duck fat in our frying, and the rest is canola oil." Evans was named one of Food and Wine magazine's top ten chefs in 2005.
The restaurant focuses on offering casual, quick menu choices, but with everything made with artisanal quality.
"All of our products and ingredients come from Maine," says Matt. "The milk we use in our milkshakes comes from Smiling Hill Farm here in Westbrook. We offer homemade sodas and we make our own syrups. You really can taste the difference."
Among the most popular offerings are the previously mentioned Belgian fries which are blanched and fried in duck fat, giving them a stronger taste. The fries are served European-style, in a cone, and offered with a variety of dipping sauces, including sweet and sour mustard, malt vinegar, horseradish mayonnaise, garlic aioli, and curry mayonnaise. You can also get them with truffle ketchup, which is regular ketchup infused with truffle oil.
Duckfat has an extensive panini menu. These hot, crispy sandwiches are best sellers. Among the choices are their famous Long Island Duck Confit, which is confit duck leg meat with an herbed black pepper Boursin spread, and the Cubano, a zesty mix of slow-roasted pork, home-made bread and butter pickles, Gouda cheese, and sweet and sour mustard. Other tasty options are tuna with capers, garlic, tomato, avocado and Provolone; Sweet Chili Chicken with pickled carrots, cucumbers and basil, and the Veggie, which combines grilled eggplant with roasted red peppers, pesto and Mozzarella.
A great accent to the paninis is one of their soups, which are "made from scratch and full of lovin." Regular offerings are chick pea and tomato fennel with fennel oil. Or go for a salad. Two unique selections are the Duck Confit, featuring duck confit with fennel, orange and goat cheese over greens, and the Avocado, which blends arugula with avocado, cucumber and soy-miso dressing.
If you have a sweet tooth, don't miss the Sweet Panini, a tempting concoction featuring a grilled brioche with your choice of homemade jam, Mascarpone cheese, and powdered sugar. All the classic jams such as blueberry, strawberry, and orange marmalade are available, as well as the more unusual sour cherry. The brioche is spread with the jam and mascarpone cheese, then topped with powdered sugar.
Another specialty is their beignets, a bit like doughnut holes, available with a range of toppings. Consider powdered sugar, spiced sugar, chocolate sauce or cinnamon sugar--or throw your diet out the window and sample one of each.
No one can leave Duckfat without trying one of their homemade milk shakes or sodas. The homemade sodas are all natural and made from cane sugar, the old-fashioned way. Classic flavors like Ginger Brew, Cherry-Lime, Cream Soda and Orange are on tap. To really treat yourself, go for a Duckfat milkshake. These dreamy creations are tall and thick and available in the traditional flavors of strawberry, chocolate and vanilla.
Duckfat is open seven days a week. Hours are from 11 a.m. to 8 p.m. Monday through Thursday, till 9 p.m. on Friday and Saturday, and till 6 p.m. on Sunday. Lunch and dinner are offered every day.
OUTSIDE LINKL Duckfat official web site
(207) 774-8080, or visit .
CONTINUE TO NEXT SECRET
Please visit these SeacoastNH.com ad partners.