Hawg Wings are like Buffalo chicken wings, but come from small crosscut pieces of pork shank. They are braised, floured and fried, then topped with a traditional buffalo hot sauce, and served with ancho cabbage slaw, crispy polenta, and bleu cheese dressing. "The secret to the polenta is that we serve it crispy on the outside and like a corn mush on the inside," says John. "It's a unique taste."
They are famous for their crisp Vidalia onion rings with hot mustard aioli (try eating just one!), and for their pork chops. "People just love the pork chops," says John. "We see folks grazing on the bone! We cook the chops in a cast iron pan, then add a prosciutto bourbon sage demi glace, and serve them with collard greens sautéed with onion and bacon oil. We always make sure that our vegetables and potatoes are in equal portion. You'll get a full plate here."
Another favorite is their chicken-fried steak with sausage gravy, homefries, eggs, toast and coffee, which is available for brunch. Or, try their Asian Chicken Salad which is tea-smoked, free-range chicken tossed with mandarin oranges, cabbage greens, cashews, wontons and a sweet chili vinaigrette for a perfect luncheon meal.
Most of what we use is made right here--like our jellies, jams, breads and sauces--or organically grown from local producers," says Lindsey. "We feel that makes a difference. We get our chicken, pork and farm fresh eggs from Kellie Brook Farm, and our beef from The Farmer's Shed here in South Berwick. Our goat cheese comes from Heart Song Farm in Gilmanton Ironworks, New Hampshire. We also run a very 'green' restaurant. We do all our own recycling--you won't see any styrofoam here; we even have a compost pile that is used to feed the pigs.
"I was involved in an organic market project before coming here," he continues. "So my focus in opening Pepperland Cafe is to use local produce and to build a bridge with local growers and suppliers. We want to be a part of the community, as a place to eat, and as a business partner."
OUTSIDE LINK: Pepperland Cafe official web site
(207) 384-5535.

CONTINUE TO NEXT SECRET


Chapman Cottage
York Harbor, ME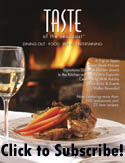 Heading up the Maine coast to York Harbor, be sure to stop at Chapman Cottage. Located in a beautiful 1800s house, the small, intimate restaurant has two dining rooms, each comfortably furnished in a Colonial country style with hardwood floors, white-clothed tables, and large fireplaces. Both offer lovely views of the sweeping grounds and stately old trees. Chapman Cottage opened three years ago, and it's been a whirlwind ever since. They offer an eclectic menu with a little bit of everything. Paul and Donna Archibald are the owners, and as chef, Paul changes the menu in April and October.
"People love our food, that's for sure," says Paul. "But they also love the ambience. We're very relaxed here. We don't rush people. We invite you to linger. We want people to enjoy themselves and relax. That's what dining is all about."
Be sure to start with a salad as there are three tempting offerings: An heirloom tomato with French bleu cheese and balsamic vinaigrette; a lovely combination of goat cheese, sweetened dried cranberries, roasted walnuts and baby greens topped with a champagne vinaigrette, and the house salad, which is cucumbers, carrots, golden raisins, and greens, served with a sherry vinaigrette.
Chapman Cottage makes all their own breads and rolls, including a sweet roll that is irresistible, but don't fill up on bread as the main courses are exceptional.
The diverse selection of entrees includes a Seasoned Risotto with Lobster, Diver Scallops and Shrimp; Duck Breast with Plum Wine Sauce; Dover Sole with a beurre blanc sauce, and their famous Seasoned Diver Scallops. "The diver scallops I get are enormous--each one is 1.5 to 2 ounces," explains Paul. "We serve them five to a plate, so it's quite a meal. Guests just rave about this dish. I can't keep it in stock. We only serve 32 people per night because our dining area is small, yet we go through 24 pounds of scallops in a week!"
All the portions are more than fair--the aforementioned duck breast is 10 ounces; they offer an 8-ounce boneless steak fillet in red wine sauce, and one-half rack of Australian lamb (15 ounces) in a port reduction sauce.
The desserts are as tempting as the entrees." We make a fresh cobbler with various fruits and vanilla ice cream," says Paul. "And we also do a cheesecake which is available plain or with strawberries, peaches, or raspberries, depending on what's in season. This is not a New York-style cheesecake; it is more of a cordon rose style, very light--it just melts in your mouth."
OUTSIDE LINK:Chapman Cottagee official web site
(207) 363-2059,.
CONTINUE TO NEXT SECRET

DUCKFAT
Portland, ME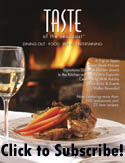 Heading north to Portland, Maine, be sure to stop at Duckfat, a great little bistro/sandwich shop located at 43 Middle Street. The restaurant is tiny, so while seating is available, it is also limited. No worries, though, everything is available for takeout.
According to restaurant manager Matthew Smith, Duckfat's unusual name came about because duck fat is used in some of their signature dishes.
"Rob Evans, our executive chef and owner, started frying French fried potatoes in duck fat and they became very popular," he explains. "Rob also uses duck fat at his other Portland restaurant, Hugo's, so he decided go with that name for this place. We use about 35 percent duck fat in our frying, and the rest is canola oil." Evans was named one of Food and Wine magazine's top ten chefs in 2005.
The restaurant focuses on offering casual, quick menu choices, but with everything made with artisanal quality.
"All of our products and ingredients come from Maine," says Matt. "The milk we use in our milkshakes comes from Smiling Hill Farm here in Westbrook. We offer homemade sodas and we make our own syrups. You really can taste the difference."
Among the most popular offerings are the previously mentioned Belgian fries which are blanched and fried in duck fat, giving them a stronger taste. The fries are served European-style, in a cone, and offered with a variety of dipping sauces, including sweet and sour mustard, malt vinegar, horseradish mayonnaise, garlic aioli, and curry mayonnaise. You can also get them with truffle ketchup, which is regular ketchup infused with truffle oil.
Duckfat has an extensive panini menu. These hot, crispy sandwiches are best sellers. Among the choices are their famous Long Island Duck Confit, which is confit duck leg meat with an herbed black pepper Boursin spread, and the Cubano, a zesty mix of slow-roasted pork, home-made bread and butter pickles, Gouda cheese, and sweet and sour mustard. Other tasty options are tuna with capers, garlic, tomato, avocado and Provolone; Sweet Chili Chicken with pickled carrots, cucumbers and basil, and the Veggie, which combines grilled eggplant with roasted red peppers, pesto and Mozzarella.
A great accent to the paninis is one of their soups, which are "made from scratch and full of lovin." Regular offerings are chick pea and tomato fennel with fennel oil. Or go for a salad. Two unique selections are the Duck Confit, featuring duck confit with fennel, orange and goat cheese over greens, and the Avocado, which blends arugula with avocado, cucumber and soy-miso dressing.
If you have a sweet tooth, don't miss the Sweet Panini, a tempting concoction featuring a grilled brioche with your choice of homemade jam, Mascarpone cheese, and powdered sugar. All the classic jams such as blueberry, strawberry, and orange marmalade are available, as well as the more unusual sour cherry. The brioche is spread with the jam and mascarpone cheese, then topped with powdered sugar.
Another specialty is their beignets, a bit like doughnut holes, available with a range of toppings. Consider powdered sugar, spiced sugar, chocolate sauce or cinnamon sugar--or throw your diet out the window and sample one of each.
No one can leave Duckfat without trying one of their homemade milk shakes or sodas. The homemade sodas are all natural and made from cane sugar, the old-fashioned way. Classic flavors like Ginger Brew, Cherry-Lime, Cream Soda and Orange are on tap. To really treat yourself, go for a Duckfat milkshake. These dreamy creations are tall and thick and available in the traditional flavors of strawberry, chocolate and vanilla.
Duckfat is open seven days a week. Hours are from 11 a.m. to 8 p.m. Monday through Thursday, till 9 p.m. on Friday and Saturday, and till 6 p.m. on Sunday. Lunch and dinner are offered every day.
OUTSIDE LINKL Duckfat official web site
(207) 774-8080, or visit .
CONTINUE TO NEXT SECRET


BONTA
Hampton, NH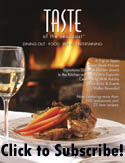 Heading south into New Hampshire, be sure to stop at Bonta at 287 Exeter Road in Hampton, New Hampshire. Bonta is beautifully appointed, with vaulted ceilings, hardwood floors and leather chairs. Large arched windows flood the restaurant with light during the day, and a huge stone fireplace keeps things cozy in the evening. Bonta means "bountiful" in Italian, and the menu reflects that theme.
"Our philosophy is to keep everything fresh and simple," explains Lee Frank, executive chef. "We want to let the food speak for itself."
The menu changes frequently, but an early fall offering featured some tempting choices. Appetizers included Caprese, a combination of homemade mozzarella, vine-ripened tomatoes and basil pesto; Beef Carpaccio, with shaved parmesan, arugula and essence of truffles, and a Halibut Chowder accented with smoked bacon.
There are a number of salad choices, but one standout is the Endive and Gorgonzola, with candied walnuts, crumbled bleu cheese and a bleu cheese dressing.
Among the classic entrees are the "Chicken Under the Brick," which is an old Italian recipe. "You take half of a chicken and roast it under a brick in a cast iron pan," says Lee. "The brick lets the chicken cook crisply without getting dry. The meat is seasoned with salt and pepper. We keep it simple so you savor the beautiful chicken. It's then served with candied shallots and butter braised fingerling potatoes which have been slow-cooked. It's a delicious dish."
Other favorites include the New York sirloin, 10-ounces of grilled perfection, topped with a roasted red chili sauce, and served with hand-cut garlic fries and fresh spinach; a veal piccata with wild mushrooms, lemon, garlic, capers and linguini; and pan-seared day boat scallops with lobster and sweet herb risotto and cauliflower sauce.
Dessert is equally distinctive. How about a pumpkin tart with walnut crème glaze or profiteroles with vanilla gelato and Grande Marnier chocolate sauce?

And then there's the quince and pear crisp, served warm with vanilla ice cream. Sigh!
OUTSIDE LINK: Bonta official web site
Opened Monday through Saturday from 5 p.m to 10 p.m. For more information, call (603) 929-7972..
Copyright (c) Taste of the Seacoast Magazine / All rights reserfed. Electronic rights use granted to SeacoastNH.com.