WHAT'S NEW?
Written by Penny Gourmet


PENNY GOURMET
Portsmouth, NH

We received an email tongue-lashing from a reader recently asking how we could possibly not include Gilley's famous lunch cart. We confess, we are so familiar with the old place that we plum forgot. We herewith offer this online homage to the longest surviving roadside diner in town.
GILLEY'S
175 Fleet Street
Portsmouth, NH 03801
603-431-6343
Official web site
BONUS: Unseen Gilley Photo
REACT: Send Us Your Gilley Stories
Who can count the number of times a downtown Portsmouth resident ends the night at Gilley's. Few alive can remember a time before the lunch cart – now late-night wagon. The first cart, built in 1912, was horse drawn. The present "Gilley" wagon, named for long-time employee Ralph Gilbert, was built in 1940 by the Worcester Diner Co. of Massachusetts. Only five were built and only this one is in full-time use today.

For over half a century the wagon was hauled into Market Square daily where it attracted working class diners just below the spire of the old North Church. As the story goes, the current cart received a daily parking ticket and eventually became the town's leading scofflaw. Gilley's was kicked out of the downtown area in the 1970s, but protest from locals led to a permanent position beneath the towering parking garage on Fleet Street.
The new family-friendly wagon (in the daylight hours, at least) is still connected to its former mode of transportation, a truck with barley 3,000 miles on the clock. The diner now sports an addition, a summer picnic area and decorative mural by artist John Richard Perry
The menu is basic and cheap – dogs, burgers, fries and fried sandwiches. We recommend the kraut dog and the beans-and-dog combo, but you may want to start off with a movie, followed by a night of drinking and dancing first. This writer has visited most often in the wee morning hours. Often standing inside the tiny wagon with more than a dozen other night owls. One eats facing the windows on stools at a narrow counter. The service is fast and the chefs – like Ray here – are usually hardcore Portsmouth characters.
Gilley's has been tried and reviewed by fast food junkies across the nation. Holly Eats, a junk food expert, rates Gilley's with four grease stains. What more can we add to that, excpet that, hot dogs are just a buck on Mondays. If you haven't been to Gilley's, you haven't been to Portsmouth.
OUTSIDE LINKS:
Closson Lunch Wagons
Muralist John Richard Perry
Holly Eats Review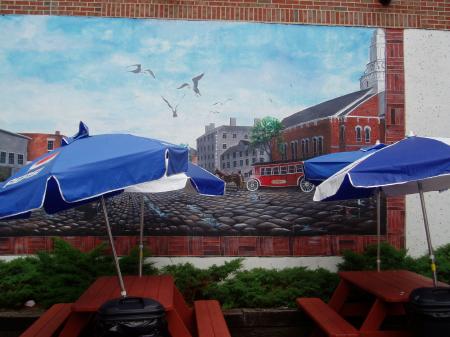 All pictures (c) 2005 SeacoastNH.com. All rights reserved.

Please visit these SeacoastNH.com ad partners.