| | |
| --- | --- |
| Tobias Lear Helps Fire Victims | |
Written by John Langdon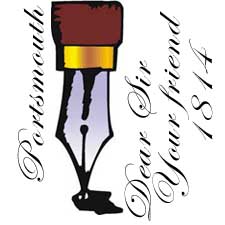 GREAT FIRES OF PORTSMOUTH
January 6, 1814
How this letter by John Langdon found its way to California we may never know. It appeared in an online auction recently and has now returned 200 years later to Portsmouth, NH. It offers a unique new glimpse behind the city's recovery from the 1813 fire. (click to read letter)

READ: The Unhappy Sufferers of Portsmouth
Following the devastating downtown fire in 1813, charitable contributions flowed into the city of Portsmouth, NH. Among the contributors, we now know, was then favorite son Tobias Lear (1762 - 1816) who was in his final years, as was his close relative John Langdon (1741 - 1819). Lear had been secretary to George Washington and Langdon had been governor of New Hampshire. According to Langdon, the center of the city had been reduced to "a wilderness of naked chimneys"..
SeacoastNH.com discovered the letter in an online auction and alerted the Portsmouth Athenaeum collections group who bid and won this revealing letter. The short hand written letter fills in a few details connecting thee two famous characters and a key event in local history. We learn that Tobias donated $200, a significant sum at the time. The letter shows an interesting burst of religious zeal from the aging Langdon whose mansion was at the edge of the fire zone and survives to this day.
Langdon mentions Lear's mother, Mary Stover, who reportedly received President Washington at her house when he visited with her son in 1789. That house too has survived and been restored to the 18th century appearance and is open to the public for limited summer viewing.
Langdon also mentions Col. Walbach, who was in charge of Fort Constitution during the War of 1814 and who built a defensive tower nearby. Both the fort and the tower are still standing in New Castle
Preserving history is expensive and most historical groups have little, if any, funds to buy back their own heritage. SeacoastNH continues to urge readers to donate their historic items to local archives where they can be preserved, conserved, used by scholars and viewed by the public. The Langdon letter cost $440 and funds were donated by a group of interested local citizens. -- JDR
The text of the letter follows with links to other SeacoastNH.com web pages above.
John Langdon Letter to Tobias Lear
Portsmouth, January 6, 1814
My dear Friend,
I have only time to acknowledge the receipt of your kind and humane letter of the 30th ult [last month]..which came to here by mail last evening, endorsing a check on the State bank of Massachusetts for two hundred dollars for the use of the sufferers by the late fire. I have given the check to the Committee for receiving and distributing donations, who return you their grateful thanks in behalf of the Sufferers for this gift of Benevolence. I was chosen one of the Committee but declined acting, but I was requested to let my name remain on the list. God in his Righteous Providence has been pleased to visit our town with a great and sore infirmity; Indeed my friend it is almost indescribable. I must thus refer you to the papers for a particular note of this Catastrophe. The most populous part of the center of this Town, now presents, if I may so express myself, a wilderness of naked chimneys. We have great reason to fear and tremble seeing we have the Mighty hand of the God of Jacob upon us. Oh that we may see the rod and him that has appointed it and bring submission to his Holy Will: and that the fruit of this affliction may be to take away our sins.
Your kind Mother and family are with Mrs. Walback and Children at her home. Mrs. Barrell and all our Connections thank you for your kind remembrance and join me in our most affectionate respects to yourself, Lady, and beloved Son, that you may be protected and guided by Divine Providence in the path of every duty in the prayer of
Dear Sir Your Friend
John Langdon
Tobias Lear Esq
Pray remembrance to Col Walback