| | |
| --- | --- |
| Watching Tom Bailey Grow Up | |
Written by Famous NH People
PORTSMOUTH'S BAD BOY
Look into those not-so-innocent eyes. This is real 'bad boy" as he looked roughly during the time TB Alcrich lived in Portsmouth, NH. Now move the time machine forward and watch him grow. This series of amazing photos tracks the once famous author from juvenile delinquent to Atlantic Monthly editor. Click on each set of images to see large pictures of the evolving author of "Story of a Bad Boy" and "Old Town by the Sea".
Click for brief life of TB Aldrich
Thomas Bailey Aldrich's Life in Photographs
Even in his early 70s, Thomas Bailey Aldrich had an impish twinkle in his eye and the look of the boy he had been long ago. We have a clear photographic record of the popular writer from his youthful days in Portsmouth, NH, to New York, as a journalist in the Civil War, a youthful writer and a mature editor.
Like one of the Lost Boys from Peter Pan, Aldrich in many ways, never grew up. Today his childhood homes has been restored to the way it appears in his classic novel Story of a Bad Boy, now at Strawbery Banke Museum. Images here come largely from his only two biographies -- the first by Ferris Greenslet (1907) and "Crowding Memories" by Mrs. Thomas Bailey Aldrich (1920). -- JDR

READ the two complete books online (scroll down)
CLICK ON PICTURES
to see larger versions.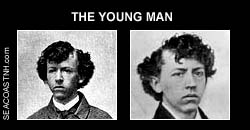 Thomas Bailey Aldrich Life in Pictures (continued)
Young Tom Aldrich from an early edition of 'Story of a Bad Boy"
Painting of Tom in Revolutionary War "regimentals"

Thomas Bailey Aldrich Life in Pictures (continued)

Aldrich at 18

Aldrich at 19

Thomas Bailey Aldrich Life in Pictures (continued)

TB Alcrich at 30

Aldrich at 32

Thomas Bailey Aldrich Life in Pictures (continued)

TBA at 44

Aldrich in his 40s
Elderly Aldrich before his death in 1907