| | |
| --- | --- |
| Slaves at the William Pitt Tavern | |
Written by Valerie Cunningham
NH BLACK HISTORY

The tavern was the center of colonial life. It was the "bus" terminal, the political hotspot, a place to eat, dine and lodge. That meant lots of jobs to be done and, in early New England, many of those jobs were given to enslaved blacks. Historian Valerie Cunningham looks inside the Earl of Halifax (William Pitt) Tavern run by the Stavers family. She discovers a formerly invisible world populated by colonial African Americans.
READ MORE NH Black History stories
The local tavern was a key building in colonial life and the tavern keepers were at the center of the action. This was especially true for the Stavers (or Stayers) family who owned their public house during the confusing days of the American Revolution. John Hancock, William Whipple, Lafayette, perhaps George Washington moved through these rooms. So too did slaves like James and Fortune, names nearly lost to history, but for the research and teaching of Valerie Cunningham. Today the restored William Pitt Tavern is open to visitors of Strawbery Banke Museum. But it is also an important stop along the Portsmouth Black Heritage Trail, not as the birthplace of the Masonic Lodge or the home of the Portsmouth Flying Stagecoach -- but as the home of a northern slave owner and slave trader. Here is that story. (JDR)
SLAVES AT THE WILLIAM PITT TAVERN
Portsmouth, NH
By Valerie Cunningham
Overview: Slaves and the Stavers Family
This three-story tavern was built at Court and Atkinson Street in Portsmouth, NH as the Earl of Halifax Tavern in 1766 by English immigrant John Stavers (or Stayers) and his second wife Katherine, a Portsmouth native. They re-named the business the William Pitt Tavern during the 1770s. Their household included up to seven children and, at various times, one or two slaves.
Africans wove in and out of Stavers' life. Back in the 1750s Stavers had a violent encounter with a slave when at sea. In 1760 Stavers hosted a slave auction (in his previous tavern on State Street. In 1764, just before the Stavers moved, a sixteen-year-old slave named Fortune was part of their household. In 1777, at this new tavern, a slave named James was part of the Stavers household. Another slave, not owned by Stavers, was exhibited to public view as a curiosity.
The Incident at Sea
Tavern-keeping was a second career for John Stavers. In 1752, when he was the Mate on board the "Princess Dowager" sailing from St. Christopher (St. Kitts, West Indies) under Captain Nathaniel Warner, Stavers beat the captain's Negro servant, for which he was subsequently taken to court. Little is known about this incident, but it establishes Stavers' subsequent relations to Africans.
An Auction at the Tavern
Before moving their business to the present building on the corner of Court and Atkinson, the Staverses ran a tavern on State Street. In December of 1760 they advertised an upcoming sale of slaves: "To be sold...a few Negroes, lately imported in the snow Gen. Townshend...from the West Indies...at Stavers Tavern". Perhaps it was at this or a similar sale that Stavers purchased Fortune and James.
Domestic Tasks
Fortune and James probably worked beside the Stavers family in the routines of operating the tavern. The tavern was licensed to lodge guests and serve food and alcohol. Food had to be procured, preserved, stored, retrieved, cooked, served, presented, and the dishes and kitchen cleaned. In the tap room liquor, fruits, and sugar had to be procured, stored, mixed, served, and glasses, punch bowls and tankards cleaned. Rooms had to be cleaned, and laundry washed. Firewood had to be procured, stacked, split and distributed year 'round. Fires had to be maintained, ash cleaned out, candles purchased, distributed, collected and trimmed.
Care was needed for traveller's horses and the horses of the Boston stage-coach line (which came to this tavern). Stavers also advertised stallions standing at stud. Procuring hay and straw, feeding, brushing and bedding horses, mucking out stables, and periodically hauling away manure added to the list of tasks.
In addition, the tavern was the site of occasional military enlistments, and drew crowds for auctions, concerts, masonic meetings and banquets, all of which generated special tasks of preparation, implementation, and clean-up.
Given the scale of the tavern operation and New England tradition it is likely that all the Staverses -- adults, children, and slaves -- worked together at necessary tasks, assigned by Mr. and Mrs. Stavers.
CONTINUE to read about runaway slaves, a man hit by an ax, thievery and the albuni slave

The Stavers Family and Slavery (consinued)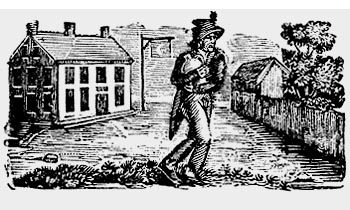 Fortune Runs Away
On May 11, 1764 the New Hampshire Gazette advertised:
Ran-away -- Negro Boy named Fortune,
Age 16, wearing a Red Jacket and
Canvas Trowsers....
We will never know what incident triggered Fortune's departure: perhaps an argument, a scolding, or a blow like that delivered a dozen years earlier to the ship captain's slave. But the underlying cause was the condition and nature of enslavement. The tasks at the tavern may seem routinely domestic, but slavery was never benign. While white youths were formulating visions of their future, Fortune had few choices in life and little hope of improved status.
Fortune could be freed from enslavement only at the whim of his owner. An owner might grant freedom as a reward for decades of fidelity and good conduct. An owner might give a slave permission to work for pay on the side and buy his own freedom. But without an owner's permission there was no hope that talent, intelligence, or hard work could change a slave's status. Enslavement must have been intolerable to the adolescent Fortune. Other enslaved people found this to be true too; early Portsmouth papers frequently advertised run-away slaves. The number would increase in the 1770s.
Running away in 1764 was problematic; there was no place to go. The thirteen colonies combined had only a few thousand free blacks, with no community large enough for a run-away to disappear in the crowd. A hundred years later on the eve of the Civil War the situation would be quite different . No more is heard of Fortune after his disappearance was advertised.
James Defends the Tavern
On Wednesday January 29 1777 in the midst of the Revolution a mob assembled in front of Stavers' tavern. They were patriots who believed that John Stavers was a Royalist. One of them began chopping down Stavers' tavern sign. Stavers sent his slave James out to drive them away. James struck the axe-man -- Mark Noble -- on the head with the axe, rendering him unconscious. Stavers was arrested immediately and subsequently taken before the Committee of Safety in Exeter for a gang trial of fifteen suspected royalists. A few, including Stavers, were released for lack of evidence; most were imprisoned.
In considering this event, historians usually focus on the meaning of Stavers' arrest for his suspected political beliefs. But what about James?
He was not arrested, nor charged with assault. Apparently James was terrified of legal or social retribution; oral tradition reported that James was found several days later hiding in the cellar, up to his chin in a barrel of water . A few days later, on February 3, Mark Noble wrote to the NH Committee of Safety saying he understood no harm was meant by the "bad blow" he received, and that he hoped Stavers would be released.
The entire incident -- whether in the NH Committee of Safety records on in later reminiscence -- was defined in terms of its free white participannts. It appears that two mechanisms were at work. The first was public preoccupation with the Revolutionary War. When releasing John Stavers, the Committee of Safety summed up the mood of the era when they advised him to be careful "in these times of Jealousy & danger." James' actions were (correctly) interpreted as representing his master not himself. This in turn illustrates the second mechanism: lack of status of slaves. Their identities were often simply absorbed into their masters'. They had a non-existent voice in the revolutionary political debate.
CONTINUE to read about thievery and the albuno slave


The Stavers Family and Slavery (consinued)
James and the Stolen Goods
The Court of sessions Minutes for November 1778 record the conviction of two women -- Sarah Giles and Jane Cooper -- for receiving stolen goods from Stavers' slave, James. On July 31, 1777 James sold to Sarah Giles: 12 gallons rum, 2 bushels corn, 2 bushels salt, 40 lbs pork, and 4 gallons cherry brandy. On November 15, 1777 James stole and relayed to Jane Cooper: 3 gallons rum, 30 lbs salt pork, 1 bushel Indian corn, 1 bushel salt, 1 lb tea, 8 lbs sugar, and one ruffled shirt. All these goods were stolen from James' master John Stavers
Stavers did not charge James with the theft. Instead he charged Sarah Giles and Jane Cooper at the local Justice of the Peace court, Samuel Penhallow (whose saltbox house stood at the south-east corner of today's Court and Pleasant Streets). The value of the stolen goods was high enough that the case was referred to the Court of Sessions in Exeter.
Though separate incidents separated by six month, both women used the same method, threatening James. They
... with Force and Arms did presume
privately to buy and receive of and
from one James a Negro Servant or Slave
belonging to John Stivers of said
Portsmouth, Innholder, knowing him the
said James to be the Servant & Slave of
the said John Stivers, certain Goods,
Wares & Merchandize & Provisions ...
The women entered pleas of innocent, but in a jury found them guilty. They were fined double the value of the stolen goods, and -- in keeping with the procedures of the time -- paid everyone's court costs.
Why James wasn't prosecuted is unclear. He may have convinced Stavers that it was an unwilling and forced theft. It may have been black "invisibility" before the law; this latter interpretation seems likely, since James is not listed among the summoned witnesses.
Why the women made James steal for them is unknown. They were farmer's wives, married to William Giles and Philip Cooper, both yeoman of Portsmouth. Perhaps the chaotic economy of the Revolutionary War created desperate shortages in their homes; perhaps these were compounded by the absences of husbands away at war. Perhaps they were spiteful about Stavers' rumored political stance. Perhaps they were merely dishonest.
How might James have viewed all this? If he was African and had witnessed a court session there, he would have seen a mix of parallels and contrasts in American law . Africans would not have seen American law as founded in family and community obligations like west African justice. Like their arbitrary and unwilling enslavement in an artificial "family" American law might have seemed founded solely in coercion. James' experience -- ignored by the law -- provides an illustration of the paradoxical legal status of enslaved people.
A Curiosity: Albino Negro
In 1764 an advertisement appeared in the local paper:
To be seen at Mr. John Stavers's,
A White Negro Boy About Nine Years old,
born in Virginia, his Father and Mother
both black, his Wool quite White, his
Eyes and Noses most wonderful to see;
price Six Shillings Old Tenor -- may
be seen any Hour from Six in the Morning,
until Ten at Night. Any gentlemen or
ladies, that have a desire to have him
brought to their Houses, by applying
to the Owner at the Sign of the Earl
of Halifax, shall be duly attended on.
Evidently the child's owner was staying for a while at Stavers' tavern, perhaps making an itinerant living by collecting admission fees. The commercial exploitation of this child's rare appearance occurred in the context of an 18th-century tradition of public entertainments held at taverns. Portsmouth tavern keepers hosted travelling exhibitions, performances, concerts, etc, Stavers mostly in his third-floor "great room." This exhibition -- exploitative in the eyes of modern Americans -- was just another passing curiosity to 18th-century white American society. It was a prelude to the common 19th-century's practice of commercial exhibition of nature in the context of circuses.

Copyright © Valerie Cunningham. Compiled with assistance by Mark Sammons. Published online exclusively by SeacoastNH.com and first online here in 1999.
Please visit these SeacoastNH.com ad partners.