| | |
| --- | --- |
| NH Black Heritage No Longer Invisible | |
Written by J. Dennis Robinson

UPDATE 2007
To everything there is a season, and the time for black history has arrived. Enormous public interest, combined with extensive academic study is bringing America's forgotten history to light. That is especially true here in New Hampshire, home of the Portsmouth Black Heritage Trail.
MORE BLACK HISTORY
When I started my Seacoast history web site 10 years ago the first person I called was Valerie Cunningham. Her 20-year study of African Americans in Portsmouth was just beginning to make waves. Back then people still generally thought of slavery as a Southern problem. The concept that New England Yankees were equally invested in the slave trade still had not sunk in. Historians still implied that being enslaved in the North was somehow better than being enslaved in the South.
Valerie changed all that by focusing on the lives of early blacks in the almost entirely white New Hampshire seaport. She gave names to these "invisible" people, fleshed out their stories, and designed a walking trail of sites connected with black history. After publishing her writing online, I started getting calls and emails from around the planet. Web pages devoted to black history were the most popular pages on my site which included thousands of pages on other topics. Valerie's work here inspired trails in Newburyport, MA and Portland, ME and elsewhere. Valerie and historian Mark Sammons wrote a teaching resource guide which became a book called Black Portsmouth.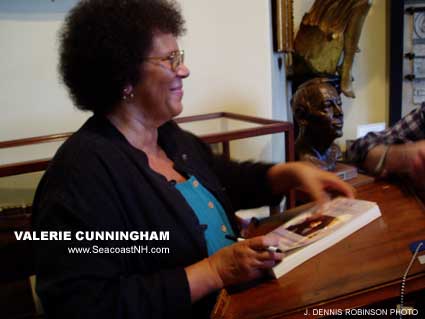 These days Valerie commutes among three offices. Her full-time job at the University of New Hampshire connects college students of color with the local community. The Portsmouth Black Heritage Trail recently set up a desk in a second-floor office in the Gov. Langdon Mansion. Valerie works evenings and weekends from her home office and still volunteers at the African American Resource Center that she helped launch in Portsmouth. Over the last decade attention focused on the Blues Bank Collective with singer TJ Wheeler, the Blues Fest annual concert, Martin Luther King Day, Quansa and Black History Month have helped turn the history spotlight onto an exciting new perspective.
CONTINUE Black History Update

NH Black Heritage Update continued
Now those of us who follow these stories are running just to keep pace. Here is a quick report on the latest activities:
PORTSMOUTH BLACK HERITAGE TRAIL
Workers recently attached the latest metal plaque to the fence outside the Gov. Langdon mansion on Pleasant Street. Another marker honoring Revolutionary War veteran Prince Whipple is going up on the "Black Whipple House" just off Hanover Street. One more goes up at Stoodley's Tavern where enslaved Africans were bought, sold and exhibited as curiosities by our founding white fathers. Two more are left from the original 16 items on the PBHT and plans are to post them by the end of this year – fulfilling the original dream. In fact, since most of the historic signage created by the city for the 1976 Bicentennial has fallen down, visitors wandering around Portsmouth, ironically, can learn more about Black history than white history. More new sites are being developed for the future. Valerie Cunningham hopes to eventually donate her personal archives, drawn from three decades of research, to the Dimond Library at the University of New Hampshire.
ROCK REST
Unable to patronize "white" hotels, motels and some restaurants up until as late as the 1960s, Black tourists found their way to alternative accommodations. Advertised only by word-of-mouth, private homes like Rock Rest in Kittery Point developed a loyal African American clientele who returned annually for the beaches, boating, rural relaxation and good food. Efforts are underway to preserve this Kittery cottage as an example of an era when "separate but equal" was the law. Clayton and Hazel Sinclair turned their summer home into a destination for blacks for just $40 a week in the 1950s. That price included breakfast and sumptuous dinners cooked Southern style with vegetables rightout of the garden. The house, still in the Sinclair family, has recently been leased to the PBHT with hopes that it may someday be restored as an historic site and perhaps used as a home for visiting scholars.
COMPUTERS TO GHANA
It was a thrill last year to shake hands with two kings from Ghana who were invited to tour Portsmouth. I met them first in their street clothes while touring Applecrest in Hampton Falls, then adorned in their golden finery in a formal reception at the Langdon House. A group of six local photographers returned the visit and their work will appear in a full-color 152-page book now in progress at the office of publisher Peter E. Randall. Randall and others asked what the children of Ghana needed most and the answer was clear – computers. "Then they can link their world up with the whole world," the kings of Ghana told Randall. The recycled computers, courtesy of local volunteers, should be arriving in Africa this very week. And watch for the book "Ghana an African Portrait Revisited" to be released later this year.
HARRIET WILSON MEMORIAL
Inspired by the work going on in Portsmouth, Milford, NH citizens donated a statue to the first novelist from New Hampshire. Harriet Wilson's autobiographical novel "Our Nig; or, Sketches from the Life of a Free Black" was published in 1859. Actress Ruby Dee spoke at the November dedication. JerriAnne Boggis, project director, worked with sculptor Fern Cunningham to create the first monument of a person of color in the state of New Hampshire. At the emotional dedication ceremony the group released a single white dove.
NH HISTORICAL SOCIETY
This year the Historical New Hampshire magazine, for the first time ever, will devote an edition dedicated entirely to Black history in the Granite State. Valerie Cunningham, David Waters and others contributed to the publication that includes articles on local slave petitioners, Blacks in Exeter, African-American settlements in NH and an essay on Claude McKay, a poet of the Harlem Renaissance. McKay published his famous work "Springtime in New Hampshire" in 1920.
AFRICAN BURIAL SITE
The official 100-page report on the "Negro Burying Ground" long rumored to be beneath the streets of Portsmouth made it official. The 18th century graves found in 2004 at Court Street were those of African American slaves. As many as 200 other burials may still be beneath the streets, officials suggest. Little information could be drawn from the 13 graves discovered, but DNA testing confirmed that the remains were from people of African ancestry.
As a testament to how enlightened the city has become, the city will create a memorial commemorative park directly at the site in which the burials were discovered. That means blocking off a busy downtown road at the corner of Court and State Streets and diverting traffic around the site. Last year the city allocated $50,000 to come up with a design for the park and members of the African Burial Committee are about to announced the winning firm. Community members will then be invited to participate in the design process. Fundraising will likely follow to cover the costs of the memorial itself.
Two years ago I wrote an editorial entitled "Make This a Hallowed Place" in which I suggested that we need this memorial to be built smack in the middle of the road. Going out of our way, I think, is the only way we can honor the dead in the "Old Negro Burying Ground" whose resting-place has been defiled for so long. I didn't, at the time, really believe Portsmouth was ready to reroute its busy traffic in memory of a few anonymous enslaved citizens. But we are ready, it seems, not just to shoulder the responsibility for the way our ancestors acted, but to take the action that shows how we intend to treat each other from now on. It will be a proud moment when we can release another dove at the dedication of this newest memorial.
J. Dennis Robinson is editor of the popular regional web site SeacoastNH.com. He is currently a trustee of the Portsmouth Black Heritage Trail.
Please visit these SeacoastNH.com ad partners.