| | |
| --- | --- |
| NH Black Heritage No Longer Invisible | |
Written by J. Dennis Robinson
Page 1 of 2

UPDATE 2007
To everything there is a season, and the time for black history has arrived. Enormous public interest, combined with extensive academic study is bringing America's forgotten history to light. That is especially true here in New Hampshire, home of the Portsmouth Black Heritage Trail.
MORE BLACK HISTORY
When I started my Seacoast history web site 10 years ago the first person I called was Valerie Cunningham. Her 20-year study of African Americans in Portsmouth was just beginning to make waves. Back then people still generally thought of slavery as a Southern problem. The concept that New England Yankees were equally invested in the slave trade still had not sunk in. Historians still implied that being enslaved in the North was somehow better than being enslaved in the South.
Valerie changed all that by focusing on the lives of early blacks in the almost entirely white New Hampshire seaport. She gave names to these "invisible" people, fleshed out their stories, and designed a walking trail of sites connected with black history. After publishing her writing online, I started getting calls and emails from around the planet. Web pages devoted to black history were the most popular pages on my site which included thousands of pages on other topics. Valerie's work here inspired trails in Newburyport, MA and Portland, ME and elsewhere. Valerie and historian Mark Sammons wrote a teaching resource guide which became a book called Black Portsmouth.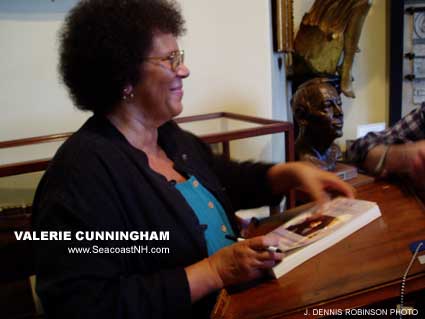 These days Valerie commutes among three offices. Her full-time job at the University of New Hampshire connects college students of color with the local community. The Portsmouth Black Heritage Trail recently set up a desk in a second-floor office in the Gov. Langdon Mansion. Valerie works evenings and weekends from her home office and still volunteers at the African American Resource Center that she helped launch in Portsmouth. Over the last decade attention focused on the Blues Bank Collective with singer TJ Wheeler, the Blues Fest annual concert, Martin Luther King Day, Quansa and Black History Month have helped turn the history spotlight onto an exciting new perspective.
CONTINUE Black History Update
Please visit these SeacoastNH.com ad partners.