| | |
| --- | --- |
| Lost Black Cemetery Discovered? | |
Written by J. Dennis Robinson
October 2003: The exact location of the Portsmouth "Negro Buyingl Ground" has long been a source of speculation among local historians. Reportedly the cemetery was moved to make way for the expanding city sometime between 1790 and 1815, but legends indicated it may have been partially moved or merely covered over. Now workers installing a sewer main have discovered what appears to be two deteriorated wooden coffins exactly at the proposed burial site.
UPDATE: Make this a Hallowed Place, June 2004
SEE MORE PHOTOS at bottom of page
READ MORE: The Coffins Under the Street
Original News Article and Photos from October 2003

Historian Valerie Cunningham placed the location of the missing cemetery at the corner of Chestnut and Court Streets, precisely where the remains were discovered. This has been stop #10 on the Portsmouth Black Heritage Trail that points out locations important to African American history in Portsmouth. Instituted in 1705, the separate cemetery location was assigned to blacks who were not allowed to be buried in white cemeteries. It now appears possible that the burial grounds were simply paved over and not moved as rumors have long indicated.
The location of the cemetery is hinted at in a 19th century history of Portsmouth by Charles Brewster. In a chapter about the sale of the downtown church or "glebe" land in 1705, Brewster refers to the burial ground. He even published a map of the area that helped place it on the Black Heritage Trail.
Portsmouth has a number of historic cemeteries long listed in local guidebooks -- including the North Cemetery, South Cemetery and Point of Graves. Those sites are each surrounded by stone walls and maintained either privately or by the city.
Photo courtesy of Steve Fowle of the NH Gazette
See Black Heritage Trail MAP for location of graves (#10)
MORE PHOTOS OF GRAVE DISCOVER, Oct 2003
Pictures by Jeremy Clough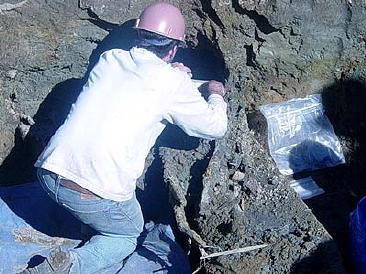 Please visit these SeacoastNH.com ad partners.