Written by W. Jeffrey Bolster
Page 1 of 7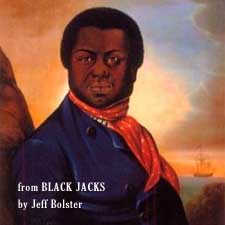 AFRICAN AMERICANS SEAMEN
IN THE AGE OF SAIL
Ten years in preparation, Prof. Jeffrey Bolster's detailed book on black mariners is a landmark publication. This interview was recorded at SeacoastNH.com offices by J. Dennis Robinson, two months prior to the book's release.
An Interview With author W. Jeffrey Bolster
BLACK JACKS
African American Seamen in the Age of Sail
Harvard University Press, 1997

BUY THE BOOK NOW from Amazon.com
SeacoastNH.com: During the age of sail what was the role of black mariners. It's a role we've never even heard of before.
Bolster: There were many roles of black mariners in the age of sail. Early on in the slave trade in the 1600s, late 1500s, black men - Africans - were being used aboard ships often of their own volition, as translators or linguists aboard slave ships.. Some were also sailing as seamen, as mariners hired on for wages in west Africa. Black men were sailing as buccaneers. We know that many of the pirate crews in the late 17th century -- that would be the late 1600s and early 1700s -- were African Americans or African men. So there were several early streams that went into the river of black seafarers. Once these colonies -- that became the United States -- were well established in the new world, however, once commerce there was thriving, black men were put into service roles aboard ship. They were sailing primarily at first as cooks, cabin boys, stewards, drummers, fifers, that sort of role. It was around the era of the American Revolution, however, that increasingly more black men were involved in this commerce as able bodied seamen. so we have a transition there from slave to free and from less skilled to more skilled.
SeacoastNH.com: You tell us in your book that as many as twenty-five percent of mariners on these ships were black. How did they disappear from history if they were so important?
Bolster: Great question. We only see sometimes what we're looking for. We only see sometimes what we want to see. Although the federal crew lists for the United States from ports like Providence, Rhode Island, Baltimore, Maryland, and many others from the 1790s on to the 1830s show that 15 to 18 to 20, some places even 30 percent of the men sailing in a given year were African American men manning American ships in this heroic age of sail. For a variety of reasons, in the 20th century, the late 20th century, people haven't looked for them. What are those reasons? For African American people the memory of going to sea has been lost from their communities because by the early 20th century Jim Crow unions prohibited Black men from shipping out. And today, looking at sailing yachts, often the toys of the wealthy, people of color have felt estranged from a sailing heritage. It's important to point out that sailing yachts today are not necessarily the lineal descendants of sailing ships in a previous age. That's one of the reasons.
Another reason is that in the early 20th century a lot of the maritime history museums that were created were children really of the colonial revival. They were created by well-to-do, white easterners, wishing to capture a certain vision of their past and there was an airbrushing out of black people in a variety of roles, specifically in the maritime roles. In the kind of iconography -- the placemats, the posters, the film casting, the statuary that was meant to evoke the maritime past became transformed. No longer did you see, like in the federal crew list, 20 or 25 percent black men in a given ship. You didn't see any. So for various reasons within the white communities, within the black communities in seaports up and down the east coast, the memory of what was once a very important part of African American, what was once a very important part of maritime America, was lost.
SeacoastNH.com: If you had to do a case history or try to come up with a portrait of the black mariner at this time -- what was he like?
Bolster: In the late 1700s, in the age of the American Revolution, the black mariner would be a man, probably in his 20s or early 30s. much more likely than his white shipmates to have a family because white sailors were notoriously single, footloose and fancy free in some ways. Black men found so few opportunities to make a living that they were more likely to stick with this very difficult employment -- seafaring -- while still trying to raise a family. Sort of a catch-22 situation. The man in the late 1700s was very likely to have been born a slave. It was almost certain that his parents had been slaves because there were so few free black people in these colonies before the revolution. That man, however, might have come from the Chesapeake Bay region -- Virginia, Maryland -- he might well have come from the Carolinas. He might well have come from the Caribbean Islands or from a north seaport like Boston or Providence, R.I. In other words, in almost every colony of the British empire, all of which were maritime colonies, men of color sailed aboard these ships and as they shifted from being slaves to free men they continued to work at sea.
QUICK CLICK to Questions
What happened when free mariners encountered a world of slavery?
How did these sailors disseminate black culture?
What about black mariners in Seacoast NH?
Tell us about the 10 years you spent as a mariner and the 10 years you spent writing this book.
What do you hope the impact of this book will be?
About the Author

CONTINUE READING the Black Jacks authot Interview

Please visit these SeacoastNH.com ad partners.