| | |
| --- | --- |
| The Good Beer Guide to New England | |
Written by Andy Crouch

SEACOAST BOOKS
Full time lawyer, part time beer writer, Andy Crouch takes on the top 100 craft beer makers in the six New England states. It's a tough job, but someone had to do it. Now you can see how NH and South Coast Maine beers stack up against the rest.
A comprehensive guide to the brewpubs and breweries of New England
Here's a local drinking fact that even Andy Crouch may not know. The first recorded regional toast was made by Captain Thomas Wannerton in 1639. Wannerton was among the founders of Portsmouth, NH, then called Strawbery Banke. Wannerton was drinking "kill-devil rum" but he certainly would not have refused a pint of grog. In fact, Portsmouth's early leader was known to travel the primitive New England coast "wherever drink was easily got".
The original New Englander's, by the way, did not drink water. They preferred beer, adults and kids alike, which is why our British ancestors remain the heaviest drinkers on the planet. Wannerton, unfortunately, was not much of a role model. He was arrested in Portsmouth for hitting his wife Ann with a stool and was eventually shot breaking into a house. .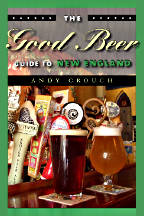 That's a pretty obscure introduction to this excellent modern guide to New England beers. We were happy to see our local Smuttynose Brewery pictured right on the cover. Crouch's book does not offer a rating, which is a good thing, since taste in beer is highly subjective. This guide is primarily educational. And Americans definitely need to be educated about beer. Currently about 90% of the beer consumed in this nation is dull, fizzy, tasteless junk that comes from the major breweries. The diverse tasty "craft" beers account for only about 3.5% of our current American sales. But that number is thankfully rising.
Like Crouch, this writer was first turned on to real beer during a stay in England. In England American beers are generally comparedin flavor and color to… well, it's not a nice metaphor. But finally New England has a revived beer industry. Crouch profiles 100 breweries from the six New England states. These beers are becoming increasingly available in stores and all breweries now have web sites, so it is possible, with this guide in hand, to really get a taste for the flavorful beers out there.
Crouch says American beer has lost its flavor and its soul. But New England is being born again and this guide both proves and explains it.. New England is finally returning to our British roots. Crouch's job, tough as it may be, is to sample all those brews and pass the data along. Cheers. -- JDR
Good Beer Guide to New England
By Andy Grouch
University Press of New England
192 pp. 156 illus. 5 1/2 x 8 1/2" paperback
$16.95
Order from the Publisher

FROM THE PUBLISHER:
With wit, enthusiasm, and a deep respect for the craft of brewing, Andy Crouch profiles nearly one hundred establishments in New England, offering a description and history of each, as well as insights into each brewmaster's philosophy and brewing style. For each brewery and brewpub profiled, Crouch covers the range of beers available and identifies its flagship product; he also highlights his choice for its "best beer," which is rarely its most popular or best known offering.
Crouch offers judicious evaluations of food, ambience, and of course, the beer; he also provides information on the availability of tours, directions and parking, hours of operation, entertainment, local sights of interest, and whether beer is available for take-away. In addition, he includes essays on the brewing process, understanding and appreciating beer, and a list of "eleven great New England beer bars."
Whether well-brewed beer is the focus of a trip or a welcomed complement, beer enthusiasts and novices alike will find this guide a worthwhile companion wherever they travel in New England.
"Andy Crouch brings his infectious enthusiasm for good beer to his New England roots for a comprehensive look at the Good Beer movement in this important, indeed seminal, region of America's beer experience. His obvious knowledge of beer and brewing coupled with a practiced journalist's eye toward telling the story in an accurate, entertaining and humorous way make The Good Beer Guide to New England a thought and thirst provoking experience." --Tom Dalldorf, Editor/Publisher, Celebrator Beer News
ANDY CROUCH is an award-winning freelance writer whose articles have appeared in the Boston Phoenix, Celebrator Beer News, Ale Street News, Yankee Food News, Beverage Magazine, and on his website at www.beerscribe.com. He often travels on beer-related adventures when he's not practicing criminal law in downtown Boston.
TABLE OF CONTENTS
Acknowledgments • Introduction • How to Use This Guide • Connecticut • Southport Brewing Company (Branford, Southport, and Stamford) • Olde Burnside Brewing Company (East Hartford) • Cambridge House Brew Pub (Granby) • City Steam Brewery Café (Hartford) • Troutbrook Brewing Company (Hartford) • Hops Grillhouse & Brewery (Manchester) • Brü Rm at BAR (New Haven) • Cottrell Brewing Company (Pawcatuck) • The Brew Pub at Mohegan Sun Casino (Uncasville) • New England Brewing Company (Woodbridge) • Willimantic Brewing Company (Willimantic) • about beer and the brewing process • Maine • Gritty McDuff's (Auburn, Freeport, and Portland) • Atlantic Brewing Company (Bar Harbor) • Bar Harbor Brewing Company (Bar Harbor) • Maine Coast Brewing Company / Jack Russell's
BrewPub (Bar Harbor) • Sunday River Brewing Company (Bethel) • Freeport Brewing Company (Freeport) • Kennebec Brewing Company (Gardiner) • Sebago Brewing Company (Gorham, Portland, and South Portland) • Liberal Cup Public House and Brewery (Hallowell) • Federal Jack's / Kennebunkport Brewing Company (Kennebunk) • Andrew's Brewing Company (Lincolnville) • Bray's Brewpub and Eatery (Naples) • Bear Brew Pub (Orono) • Allagash Brewing Company (Portland) • Casco Bay Brewing Company (Portland) • D. L. Geary Brewing Company (Portland) • Shipyard Brewing Company (Portland) • Stone Coast Brewing Company (Portland) • Slopes Northern Maine Restaurant and
Brewing Company (Presque Isle) • Rocky Bay Public House and Brewing Company (Rockland) • Oak Pond Brewing Company (Skowhegan) • Kennebec River Brewery (The Forks) • Sheepscot Valley Brewing Company (Whitefield) • understanding beer styles • Massachusetts • Amherst Brewing Company (Amherst) • Nashoba Valley Winery (Bolton) • Beer Works (Boston and Salem) • Boston Beer Company (Boston) • Harpoon Brewery (Boston) • Rock Bottom Restaurant and Brewery (Boston and Braintree) • Cambridge Brewing Company (Cambridge) • John Harvard's Brew House (Cambridge, Framingham, and Manchester, Connecticut) • Cape Ann Brewing Company (Gloucester) • Barrington Brewery and Restaurant (Great Barrington) • The People's Pint (Greenfield) • The Tap Brewpub (Haverhill) • Paper City Brewery Company (Holyoke) • Cape Cod Beer (Hyannis) • Mercury Brewing Company (Ipswich) • The Concord Brewery (Lowell) • Cisco Brewers (Nantucket) • Owen O'Leary's (Natick) • Northampton Brewery (Northampton) • Offshore Ale Company (Oak Bluffs) • Berkshire Brewing Company (South Deerfield) • Opa Opa Steakhouse and Brewery (Southampton) • Hyland Orchard and Brewery (Sturbridge) • Watch City Brewing Company (Waltham) • Wachusett Brewing Company (Westminster) • Buzzards Bay Brewing (Westport) • enjoying beer • New Hampshire • Tuckerman Brewing Company (Conway) • Elm City Brewing Company (Keene) • Franconia Notch Brewing Company (Littleton) • Italian Oasis Restaurant and Brewery (Littleton) • Milly's Tavern (Manchester) • Anheuser-Busch Brewing Company (Merrimack) • Martha's Exchange (Nashua) • Flying Goose Brew Pub and Grille (New London) • Moat Mountain Smoke House and Brewing Company (North Conway) • Woodstock Inn Station and Brewery (North Woodstock) • Portsmouth Brewery (Portsmouth) • Redhook Ale Brewery (Portsmouth) • Smuttynose Brewing Company (Portsmouth) • Seven Barrel Brewery (West Lebanon) • respecting beer • Rhode Island • Mohegan Café and Brewery (Block Island) • Coastal Extreme Brewing Company (Middletown) • Coddington Brewing Company (Middletown) • Trinity Brewhouse (Providence) • Union Station Brewery (Providence) • eleven great new england beer bars • Delaney's (New Haven, Connecticut) • Eli Cannon's Tap Room (Middletown, Connecticut) • Great Lost Bear (Portland, Maine) • Sunset Grille and Tap (Allston, Massachusetts) • The Moan and Dove (Amherst, Massachusetts) • The Publick House Brookline (Brookline, Massachusetts) • Horseshoe Pub and Restaurant (Hudson, Massachusetts) • Redbones (Somerville, Massachusetts) • Barley Pub (Dover, New Hampshire) • Mews Tavern (Wakefield, Rhode Island) • Mr. Pickwick's (Stowe, Vermont) • VERMONT • Madison Brewing Company (Bennington) • McNeill's Brewery (Brattleboro) • Long Trail Brewing Company (Bridgewater Corners) • Bobcat Café (Bristol) • American Flatbread—Burlington Hearth (Burlington) • Switchback Brewing Company (Burlington) • Three Needs Brewery and Taproom (Burlington) • Vermont Pub and Brewery (Burlington) • Trout River Brewing Company (Lyndonville) • Otter Creek Brewing Company (Middlebury) • Rock Art Brewery (Morrisville) • Jasper Murdock's Alehouse (Norwich) • Magic Hat Brewing Company (South Burlington) • Shed Restaurant and Brewery (Stowe) • Alchemist Pub and Brewery (Waterbury) • Maple Leaf Malt and Brewing Company (Wilmington) • Harpoon Brewery (Windsor) • Glossary • Index • About the Author