Written by Marianne Pernold Young

SEACOAST NH BOOKS
Who are those people who sell fresh goods each week at the Seacoast Farmer's Market? This homegrown volume takes you to the family farms of twenty local independents. Celebrate the survival of these unsung business owners by ordering a copy of "Farm to Market" by an award-winning local photographer.
March 24 Book Signing
Rye Public Library, 4-6- pm
(603) 964-8401
The Seacoast began as a community of fishermen, loggers, boat builders and farmers. The logging industry quickly cleared the land and disappeared to the north and west. The boat building industry faded with the age of sail. Today the fishing industry is on the verge of extinction. Marianne Pernold Young has devoted time to photographing the independent men and women of the local fishing industry. Now she offers her powerful portraits of independent family farmers. Her new book includes images of 20 vendors all working within a 20-mile radius of Portsmouth.
We know these people. We see them weekly at the Portsmouth Farmer's Market. We buy their homegrown and homemade products. But we never get to see them where they live and work. That is the goal of this attractive book by one of the region's best photographers.
These images were taken in 2004 during a month-long preparation for an exhibit on Market Square Day. Tracey Bentley of the farmer's market association put all the names of local vendors in a hat and picked 20. The work was supported by a grant from Stonewall Kitchen.
We have lost most of our larger Seacoast farms due to urban sprawl. Now even the smaller farms are at risk. Real estate developments, Marianne says, put every farm in danger. Landowners simply cannot earn enough farming the land to compete with the value of housing developments that are rapidly sapping the character of the landscape.
This book is designed "to give the vendors some positive recognition" says Marianne. They need it ever since the Portsmouth Farmer's Market moved from the parking lot near he South Mill Pond to the hill in front of City Hall.
"After we showed the exhibit at Market Square everyone said -- Make a book, make a book! -- so we made a book," Marianne says. It contains short biographies of the family farmers and comments from those pictured. The book is every bit as fresh, homegrown and healthy as the farm products it depicts.
SEE ALSO: Winter Out of Fall by Marinanne
SEE ALSO: Eliot Tractor Show photos
From Farm to Market
A Photo Essay of Market Farmers on Their Farms (2005)
By Marianne Pernold Young
Softcover, 8 x 10, black and white
Printed by Digitalsmith, Portsmouth, NH
$25
Click to BUY THE BOOK from Marianne's web site
SAMPLE PAGES FROM THE BOOK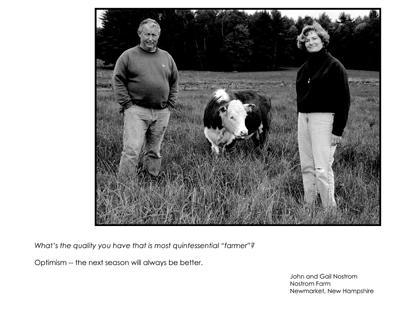 Pictures courtesy of Marianne Pernold Young (c) 2005
Please visit these SeacoastNH.com ad partners.