| | |
| --- | --- |
| Farewell Old State Street Store | |
Written by J. Dennis Robinson
Page 1 of 2

SEACOAST POETRY
You don't have to be perfect to be loved. In fact, you can be downright deterioirated if you are the only grocery store open late into the evening downtown. When Richardson's Market closed in 2000, a lot of hardcore townies mourned its passing. Now a newer better store has taken its place, but the memory lives on -- in verse.

Richard's Market closed in 2000 after 52 years, Despite petitions of support circulated by downtown Portsmouth residents, it was all over for, what was then, the only traditional downtown market.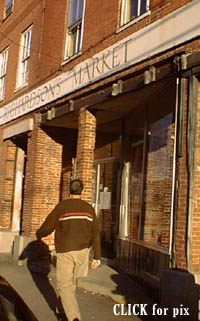 Alcohol liability laws, it seems, were the kiss of death for the late night convenience store. Shop owners can be personally fined up to $100,000 for alcohol sold to minors in the state of NH. The Richardson's, Louise and Basil, announced that that was just to risky to go on. The store had also suffered during a couple of small fires. The building exterior was crumbing. And a new health food store had opened on the far site of the main drag.
A flea market shop had moved in next door. The only downtown Laundromat -- such as it was – hunkered at the back of the building.
In the spirit of Oliver Wendell Holmes -- who saved a ship with words -- it seemed only fitting to launch one last poetic protest. The poem was penned quickly at the request of the NH Gazette, "America's oldest newspaper." It brought a flood of nostalgic response. It was reportedly quoted, in part, in the prestigious Boston Globe. During the last days of Richard's Market, a copy of this poem was taped to the entrance of the store. We can imagine no greater tribute.
There is a new store now, much cleaner and better stocked, but there is something still to be missed about an old faded neighborhood grocery shop. -- JDR
Farewell My Old State Street Store
Verses penned on the occasion of the closing of
the last old Portsmouth grocery store
To all the beer I purchased there
When night grew dark and late;
To all the food I bought well past
Its expiration date;

To all the times I hungered for
A meatloaf Hungry Man;
To all the fuzzy ice cream bars
And things inside a can;

To trash bags stapled high above
Ballooned with dripping rain;
To toilet tissue infinite
And amber aisles of grain.

To all the cookies I've imbibed
Still emanating heat,
Just lying on a paper bag
Back where they cut the meat.

To all the weirdoes I have met
While chatting on the stoop;
To all the times I've cashed a check
To buy some Campbell's soup.

To decades living smack downtown
Without another store,
Farewell sweet State Street friend of mine,
No one will miss you more.
Copyright 2000 by J. Dennis Robinson,
Text updated 2005, all rights reserved.
CONTINUE FOR PHOTOS
Please visit these SeacoastNH.com ad partners.