Written by Thomas Bailey ALdrich
Page 3 of 3

BALLAD OF BABY BELL (continued)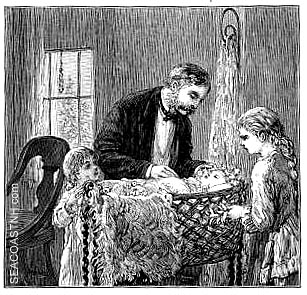 IV
And now the orchards, which were white
And pink with blossoms when she came,
Were rich in autumn's mellow prime;
The clustered apples burnt like flame,
The folded chestnut burst its shell,
The grapes hung purpling, range on range;
And time wrought just as rich a change
In little Baby Bell.
Her lissome form more perfect grew,
And in her features we could trace,
In softened curves, her mother's face.
Her angel-nature ripened too:
We thought her lovely when she came,
But she was holy, saintly now…
Around her pale angelic brow
We saw a slender ring of flame.
V
God's hand had taken away the seal
That held the portals of her speech;
And oft she said a few strange words
Whose meaning lay beyond our reach.
She never was a child to us,
We never held her being's key;
We could not teach her holy things
Who was Christ's self in purity.
VI
It came upon us by degrees,
We saw its shadow ere it fell -
The knowledge that our God had sent
His messenger for Baby Bell.
We shuddered with unlanguaged pain,
And all our hopes were changed to fears,
And all our thoughts ran into tears
Like sunshine into rain.
We cried aloud in our belief,
"Oh, smite us gently, gently, God!
Teach us to bend and kiss the rod,
And perfect grow through grief."
Ah! how we loved her, God can tell;
Her heart was folded deep in ours.
Our hearts are broken, Baby Bell!
VII
At last he came, the messenger,
The messenger from unseen lands:
And what did dainty Baby Bell?
She only crossed her little hands,
She only looked more meek and fair!
We parted back her silken hair,
We wove the roses round her brow -
White buds, the summer's drifted snow -
Wrapped her from head to foot in flowers…
And thus went dainty Baby Bell
Out of this world of ours.
Please visit these SeacoastNH.com ad partners.