Written by Steve Salniker
Page 1 of 2

Seacoast Gallery
STEVE SALNIKER

And now for something completely different. With all those spiffy digital cameras available, why would someone take photos using a wooden box with a hole in it? Don't knock it until you've tried it. The primitive art of pinhole photography is making a compeback as a simple, satisfyiny art in a complex age.
STEVE SALNIKER
Pinhole Photography
Dover, NH
9 images on two web pages
Stephen Salniker created this Gallery with a whole new perspective. He uses a camera with no lens, as primitive, yet evocative as the earlies photos ever taken in the mid 1800s. He started doing pinhole work at age 15 because he did not have an enlarger. He found, after reading an article in Popular Photography, that he could get a large image by building his own camera and using enlarging paper in place of film. That gave him a paper negative, which he then contact-printed to make a positive image.
Tthree decades later, Steve continues to make pinhole images. Today he has an enlarger, but still prefers working with large-format negatives. He currently has four cameras that he uses regularly. He prefers "palladium" printing techniques for making black and white prints because he says he gets a wider range of tones in the finished print.
The color images here were scanned from 8" x 10" color positives, that came directly out one of Steve's many pinhole cameras. Steve used the back end of an old view camera that he built into a pinhole camera using a cardboard front. The black and white images came from 8" x 10" negatives that were shot in a hand-made Masonite camera.
Steve notes that anyone can make a pinhole camera from virtually any object that is light-tight -- from a Quaker oatmeal box to a shoe box. One artist even made a pinhole camera from a Volkswagen bus, he says. Taking a Polaroid camera, removing the lens, and replacing it with a pinhole is great way to make instant pinhole pictures.
Steve works from his studio in Dover. When he is not making pinhole images, Steve is a videographer at NH Public Television, where he taped the long-running "NH Crossroads" and just about everything else for more than a decade. -- JDR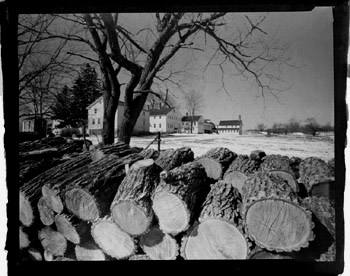 All photographs copyright Steve Salniker. All rights reserved.
Originally published here in 1998.

CONTINUE f Pinhole PhotographyGallery

Please visit these SeacoastNH.com ad partners.